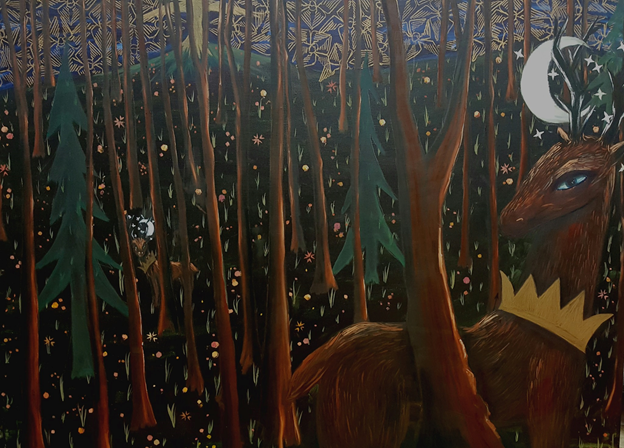 Taryn's reflection on the painting:
Why have you hidden yourself? This is the question posed to Adam and eve after they severed their relationship with God at the behest of the serpent. The garden becomes a dark forest in the winter of sin.
Why have you hidden yourself? This is the question of the soul longing for God, who seeks him and only catches glimpses of his gaze through the lattice. This is the soul God feeds with that dark search. The king hides himself though he holds all the light of the stars and the promise of fathers long gone. The bridegroom is seen through the dark cloud, or in the distance or on the mountain.. and hides himself again. But his gaze does not wander, he is intent on the one he draws after him. In his wake a new spring is coming -the little flowers are very sweet- a new garden watered with crimson and gold, suffering and beauty, blood and tears and sweat. The angels draw near to this dark heaven, where God is, and where God is hard to see.
The Spirit and the bride say come. Maranatha. Come, Lord Jesus.
– Revelation
What is that coming up from the wilderness, like a column of smoke perfumed with myrrh and frankincense.
– Song of Songs
If I say let the darkness hide me and the light around me be as night, even darkness is not dark for you and the night is as clear as day.
– Psalm 139
As the deer longs for running streams So my soul longs for you my God.
– Psalm 42
The voice of my beloved, Behold, he comes Leaping upon the mountains, Bounding over the hills. My beloved is like a gazelle Or a young stag Behold there he stands Behind our wall Gazing in at the windows, Looking through the lattice.
-Song of Songs
My beloved is mine and I am his He pastures his flock among the lilies Until the day breathes And the shadows flees, Turn my beloved, be like a gazelle Or a young stag upon rugged mountains
– Song of Songs
I slept but my heart was awake Hark my beloved is knocking Open to me my sister, my love My dove, my perfect one For my head is wet with dew My locks with the drops of the night I had put off my garment How could I put it on I had bathed my feet How could I soil them My beloved put his hand to the latch And my heart was thrilled within me I arose to open to him But he had gone.
– Song of Songs
You have seduced me, O Lord, and I let myself be seduced.
– Jeremiah
And his banner over me is love.
– Song of Songs
Love is strong as death, jealousy as cruel as the netherworld.
– Song of Songs