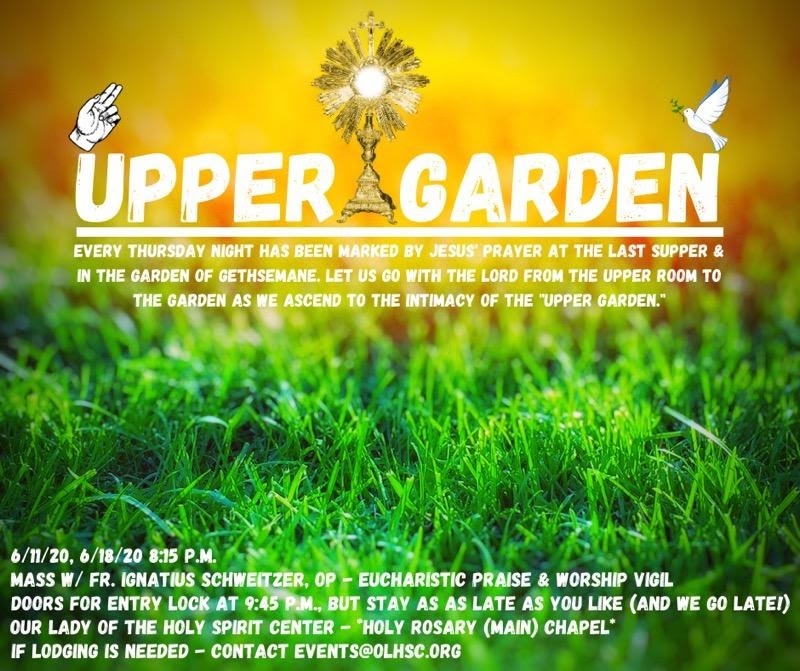 Dear friends,
Jesus is Lord and reigns from the Eucharist! I'd like to invite you to the Upper Garden event September 17.
The Lord has been moving! I'll give you just a few testimonies I've heard concerning how the Lord has acted in these past weeks at the Upper Garden. A young woman came to a new appreciation of Jesus' love for her and received the grace to be able to end a relationship that was holding her back from her First Love. A middle-aged woman, who has recently suffered a great loss, found new direction and purpose through being prayed over by a few of us. Some have expressed the experience of a greater awe for the Mass, fondly calling the long Mass a "deep dive" Mass. A young man was brought to a new level of commitment to the Catholic Faith, declaring that he's "all in" now, wanting to give himself totally to the Lord. God is good!
We've had up to about 50 people attend and sing God's praises before our Lord Jesus, at Mass and exposed in the Blessed Sacrament. Feel free to pass on the flier and invite others.
The Lord Jesus continues to speak to His Church: "I have come into my garden, my sister, my bride" (Song of Songs 5:1).
In the hearts of Jesus and Mary,
Fr. Ignatius John
---
Contact Fr. Ignatius